Client: Delcie's Desserts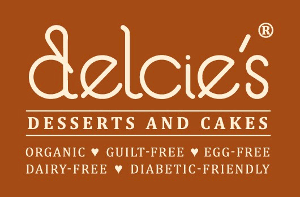 Delcie's is the leading healthy bakery in Singapore serving cakes to health conscious consumers, those on diets, diabetics, vegans, vegetarians, plus people with eggs, dairy, soy, wheat and/or nuts allergies.
Country: Singapore
---
Looking for Reliable Web Hosting with Really Great Support?
I recommend SiteGround. Click banner below for best deal.
---
Project: Facebook Marketing
Challenge
Delcie has wondered for a long time – How to engage my Facebook community plus attract them to visit my store?
---
Solution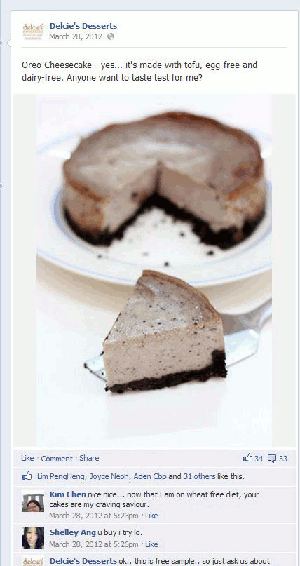 We looked at Delcie's Facebook Page. She has great products; such as lovely cakes, and delicious desserts. All her creations were very yummy. Trust us. We tasted.
But her posts never drew much attention. Likes were few. Engagement practically none.
After much thought, we realized that all Delcie needed was a simple tweak to her posts. We suggested to Delcie that since she is posting about her wonderful new cakes, why not offer free samples?
A simple call to action such as – Anyone wants to taste test for me? – would surely get some fans interested. Who doesn't like some free samples right?
---
Results
Delcie tried what we suggested, and that post received the highest number of likes and comments the Facebook Page ever experienced. Delcie reported to us that the number of people coming to her store increased. So did her sales for that day. ROI was more than 500%!
---
Testimonial from Client
"Timotheus is an incredibly talented and intelligent individual and consultant with exceptional marketing and branding insights. His creative and thoughtful approach to client relationships and business is truly enlightening and has helped me learn and understand how great business is done.
He is highly knowledgeable about digital strategy and marketing as well as best web and social media practices.
I consider him to be a social media authority. He is consistently going above and beyond to share his expertise with others, and to motivate individuals and businesses to elevate their own expectations of what their business can achieve.
I would highly recommend Timotheus as a vendor, client, and friend."
Delcie Lam, Owner, Delcie's Desserts, Singapore, 2014
---
Looking for Reliable Web Hosting with Really Great Support?
I recommend SiteGround. Click banner below for best deal.
---
If you have ANY questions about this post, ANY at all, please submit your questions as comments below. I will be happy to help you out.
Thank you for reading this.
Best wishes to All!
Timotheus