Introduction
Now that you have created your Simple Digital Marketing Plan, the entire project may seem rather daunting.
Do not feel overwhelmed. There is a way to approach this that will make you feel at ease.
Take a good look at the list of digital marketing tasks.
Many of the items on that list are important and can make a difference to your digital marketing strategy.
Some are ongoing tasks, and some are just one-time tasks.
Start with these one-time tasks:
1. Identify and find your ideal customers.
2. Do detailed keyword research.
3. Do onsite Search Engine Optimization updates.
4. Add a lead capture system to your business website.
5.   Complete personal branding changes.
---
Would you like to learn how to start and grow an affiliate marketing business? Join my I Love Passive Income community for more tips and useful business information. Simply fill in the details below, and you will receive an email with instructions on how to join this invaluable community.
---
What are These One Time Tasks?
These tasks are the foundation of your digital marketing plan.
They are essential for increasing your online presence. Without them, many of your other digital marketing strategies may fail.
Similarly, they must work together with your other digital marketing strategies.
If you only do these tasks, there is no guarantee your business website will rise to the top of search results, or even on the first page of it.
So it is very important for you to take note that you cannot simply do only these one-time tasks, and then stop. You need to do the other tasks, too.
To help you and to make sure you do that, set yourself a deadline for the completion of these tasks.
Then once all have been completed, move on to the other digital marketing tasks.
Identify And Find Your Ideal Customers
In the previous chapter, Your Simple Digital Marketing Plan, we discussed about this. All you have to do is to sit down, and think of who your target audience is. Consider the following:
Who uses your product or service?
What need do they fulfill when they purchase your product or service?
What is the motivation to buy? For example, are you adding pleasure or removing pain?
Who is the decision maker that says the final yes or no to the purchase of your product or service?
What is their gender?
What is their income?
What is their occupation?
Where are they located?
When do they buy your product or service?
What other interests do they have?
Do they have any concerns about products and services like yours?
Why should they buy from you rather than your competitor?
How do they like to be communicate with?
These are just some examples of questions that can help you identify and find your ideal customers.
Feel free to add more questions that can help you achieve that.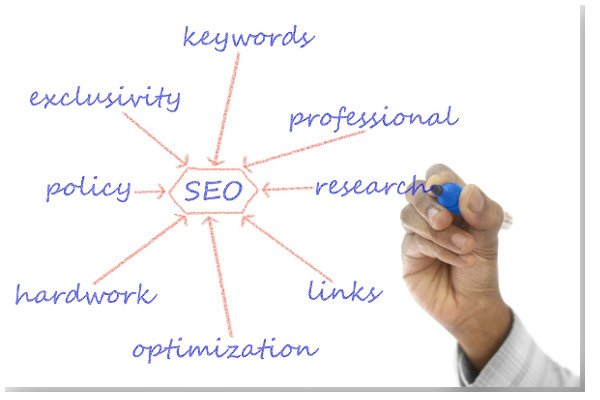 Doing Detailed Keyword Research
Carrying out detailed keyword research goes hand in hand with identifying and finding your ideal customers. After discovering who your ideal customers are, you need to find them, lead them to your business website, and successfully convert them into actual paying clients.
Remember, they are prospects until they buy your product and/or service. Then they become your actual customer.
Detailed keyword research is typically a one-time task that should be done at the beginning of your digital marketing campaign. I say 'typically' because there are sites that require ongoing keyword research. For example, an ECommerce site that is always adding new products will require keyword research for every new product.
But for most, this can be a one-time task. My advice is to delegate this to a keyword research specialist for they are very good at this job, and can yield extremely effective results.
The Necessity of Keyword Research
In the past, you may have been stumbling around in the dark, wondering what your potential clients are searching for and what words and phrases they use in search when they look for similar products and/or services like what you have to offer. Keyword research is like turning on the light.
When you do keyword research, you will no longer guess, but you will know exactly what words and phrases people use when they look for products and/or services like your products and/or services.
Fortunately, this is a task that needs to be done once. It is repeated only when you have a new line of products or services to offer, or when you open a new division of your company. You get the gist, basically when your products and/or services are affected by changes.
To find out what are the keywords that people use to find products, services or businesses in your field, you need to ask yourself the following questions:
How Will People Search For You?
Ask yourself these questions:
What types of phrasing do you think your potential customers will use when searching for you?
Will they look for an occupation, a type of business, an industry, a type of solution, or perhaps even a product or service type?
Will they use geographic modifiers such as a city, a country, or even a region? What about motivation?
Some people are motivated by certain factors to search for a particular product or service, and it can come through in their search by using specific words such as '24 hour'.
Here are some examples for your three considerations:
Specific person:
"Plumber", "plumbing contractor", etc.
Geographic modifiers:
"plumber Singapore", "plumber Kowloon", "plumber Budapest", etc.
Motivation levels:
"emergency plumber Taipei", "24 hour plumber", etc.
Keyword Research Tool
A keyword research tool can be very useful, and you should employ it as a critical part of your keyword research.
There are many such tools available in the market.
There is a free tool that is of great help as it can also generate keyword ideas for you as well as synonyms is Google's Keyword Tool.
It also cross references your keywords with geographic modifiers.
This becomes very useful and effective in getting your business website ranked for strong keywords.
Alternatively, consider hiring a digital marketing firm to do it all for you.
Besides building a list of long-tail keywords, your digital marketing expert can help you find out which specific keywords are most valuable.
Plus, they can also gather intelligence on keywords that your competitors are using.
Document Data for Future Use
It is always good to keep records of everything you do. Archiving allows you access to past efforts or even use data for current or future projects. This is why it is wise to keep a tab on all the keywords that you discover. Also, it will reduce the need to repeat any keyword search.
The keywords will become very valuable to you. They can be used in every aspect of your digital marketing. This research that is done one-time and in the beginning, about your ideal client and what he or she searches, will be used in all your online content. You can use the keywords for the following:
Search Engine Optimization
Social Media
Ads
Videos
Audios
Articles
Blogs
Press Releases
Tags
Use a couple or more keywords from your keyword list every month. Just by simply adding one or more traffic methods to your existing traffic generating strategies can produce significant results.
Do Onsite Search Engine Optimization Updates
This is a one-time activity that will transform your business website significantly.
Your site will be changed from its current state to a search engine-optimized version that will be very attractive to web crawlers.
It is a very important step that gets your business website ranked as high as possible in search engine results.
Many website owners are not aware that while some features on a website may look aesthetically pleasing, they may not be appealing to a search engine.
In fact, some of these fancy programming can be detrimental as they can produce negative results from search engines.
Analyze What You Have
First of all, you must analyze your current business website. Check the following items:
The look and feel of your business website; for example does it reflect the type of industry your business is in?
Is it attractive to your target audience? Etc.
Is your business website optimized for visitors?
Is your business website optimized for search engines?
Does your site work for multiple browsers?
These days, more and more people surf the Internet on their mobile phones. The small screen on a mobile phone does present some problems with viewing the content of a website. To meet this need, many websites are now done with responsive web design.
This is a form of design that provides optimal viewing experience for the user. Websites with responsive web design adapts the layout according to the device used. As such, here is one more item for your checklist:
Is your website with responsive web design?
Critical Components of a Good Website
Over the years, when we did audits of many a website, we did discover many critical components missing.
It is quite disappointing to find some web creators not providing their best for their clients, or perhaps they too are not aware of these critical components. Nevertheless, do know that these components are essential for the success of your business website.
They will make your business website appealing not only to visitors but also search engines. Go through this list and make sure all are in place. If not, include them immediately for the best results.
Easy Navigation
A website that is easy to use will encourage your visitor to stay a little longer and explore the site.
Keep the navigation straightforward; for example, clear menu options that are always displayed at the same location on every web page.
Vital Information 'Above The Fold'
Not everyone will bother to scroll down, go to a next page, or click on a link to another page unless you made it so enticing for them to from the home page.
So it is best to place all the important information on the home page for the visitor.
All Links Working
It is frustrating to visitors and search engines when a link is broken.
Make sure all links are working well at all times.
Home Page, Products Page, Services Page, Testimonials, About Page and Contact Form
Do ensure that, at the very least, all these pages exist on your business website, and filled with useful and timely content.
Lead Visitors Through The Site
Once you captured your visitor's attention, lead them to where you want them to go on your site.
Do this in order to eventually have them make a purchase.
Specific Instructions
Be specific with any instructions on any page on your business website.
Multiple Calls To Action
Encourage your visitors to take action throughout your site.
Of course, do it elegantly.
Don't be loud, or scream at your audience, or be tacky.
Use motivating words like 'Call now', 'Buy now', etc.
Pictures Used Correctly
Pictures should match the content.
Better if it provides explanation of the content.
After all, a picture tells a thousand words.
Using pictures correctly includes proper sizing of pictures as well as captions for it.
Non-Distracting Design
The design should not distract the visitor from the content, unless the design is the content.
For example, do not use animated background that is too distracting.
Also, keep the fonts simple and standard. Do not use funny looking fonts, try to avoid italics, and preferably do not underline any text.
Dark Text On A Light Background
Studies have found that people find it easy to read when the text is dark and the background is of a light color. Keep that in mind, and make it standard on your business website.
Multiple Ways To Contact
A contact number and/or email address should be available on every page, discreetly and elegantly positioned at the same area.
This makes it easy for the visitor should he or she decides to contact you.
Trust Factors
Your business website is the best place to showcase your trust certificates and awards.
If possible, find a way to highlight this on your home page.
If not, have at least a link to web page that features these.
Testimonials
Nowadays, testimonials are displayed on the home page, especially websites with responsive web design.
Some even make the testimonials displayed using a slideshow.
Testimonials are a great way to build trust for your brand.
When visitors see what others have to say about your brand, they feel confident to do business with you.
Personal Branding
As discussed in Your Simple Digital Marketing Plan chapter, a strong brand is a valuable asset.
Besides a logo and a slogan, there are many other elements that make up your brand.
For example, in your About Us section of your website, pictures of you, the management, and your staff communicates who you are, as a brand, to your audience.
Other forms of communicating your brand include branding vehicles, online videos, audios, social media, and many more.
Optimization for Keywords
I have said it before, and I will say it again for I believe repetition to be a good learning style. You must take the time and effort to do keyword research. This is so that your keywords are optimized properly.
Using good keywords is a huge plus for search engines. For example, one way of using your keywords is to have them in your business website with title tags, meta tags, the URL, the headers and description of a web page.
Also, ensure that all the text on your business website is search engine-optimized with strategic use of keywords. At the same time, beware of duplicate content. This can have detrimental effect on search results of your website.
Relevancy
Search engines love it when websites contain content that has relevance to the main subject of the website.
You can create relevancy by starting broad, and then drilling down within themes.
Tip: Always optimize for one keyword per page. Don't do it for multiple keywords per page.
Lastly, Avoid Flash and Frames
These do not add any value to your business website, especially when optimizing for search engines.
By now, with the implementation of the above critical components, your business website should naturally move closer to the top of search engine results.
But a word of caution here. Do not just rely on this alone.
---
Would you like to learn how to start and grow an affiliate marketing business? Join my I Love Passive Income community for more tips and useful business information. Simply fill in the details below, and you will receive an email with instructions on how to join this invaluable community.
---
How To Promote A Business Online? – Start With One-Time Tasks – Part Six-A
Timotheus Final Word
Besides these one time tasks, you need to also implement the other tasks in your digital marketing plan.
These other tasks include maintaining a blog, regular updates on social networks, implementing other Web 2.0 applications, submitting articles with links back to your site in order to increase traffic, building quality one-way links, etc.
Continue reading the other articles in this series to help you promote your website.
If you have ANY questions, or anything to clarify, please drop a comment below. I will be happy to help you.
I wish everyone great wealth and success.
Timotheus
Your Online Business Coach
There are two more one-time tasks to discuss, and it will be in the second part of this article. It is in two parts because having all the information in one part is too long, and I have had feedback that it is too much to read at one go.
Continue reading – How To Promote A Business Online? – Start With One-Time Tasks