Free Keywords Tool
Starting an online advertising campaign? Eager to Get Your Website Ranked on First Page of Google? And need High Quality Keywords to achieve your goals? Use the Free Keywords Tool below to START your research
---
The Importance of Keywords
Today, in the world of business, keywords are very important. It is how a real potential customer can search and find your business online.
It all starts here. People go to a search engine site like Google. They enter some words, that are known as keywords, to find what they need. They see a list of search results, make a choice and they click on a listing.
If you have done your keyword research, used it to rank on first page of Google, you have a high chance that they will click on your website search listing, and visit your website.
Essentially, you have captured real and relevant traffic that you can convert to customers.
---
This Free Keywords Tool Really Works!
My website is ranked on Number One position of search results on Google.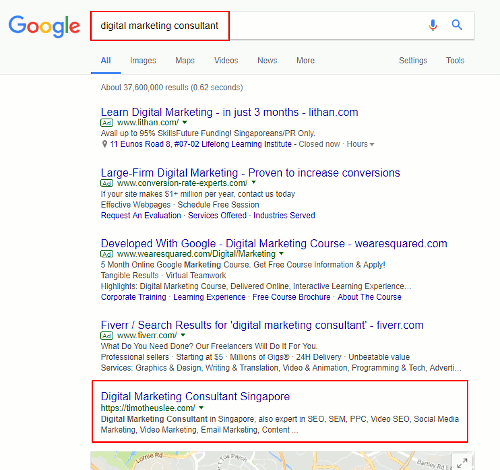 Besides successfully ranking my website, I have also used the Free Keywords Tool to help my clients' websites rank on 1st Page of Google and other search engines.
The tool is very good for research when writing content and getting the content ranked on 1st Page too.
This tool is also very useful when you are going to design an online advertising campaign. For example, if you are going to advertise using Google Adwords, you will need to know what keywords people are using to find products or services like yours.
With this Free Keywords Tool, you can see if there is traffic for a particular keyword or keywords, and then use it as keywords for your ad. Of course, there are many other factors that you must consider before choosing the right keywords for your website, content or campaign.
Below I explain what are these other factors, and how they can help you do better at your keyword research and find high quality keywords.
---
Important Metrics for High Quality Keywords
So what other factors to consider in order to find High Quality Keywords? These are also called Metrics.
And here are some important metrics available with the Free Keywords Tool, and can help you find high Quality Keywords:
Monthly Searches
These numbers are the amount of traffic you can potentially capture per month. When you are going for natural rankings, it is highly recommended that ANY amount of traffic is good. But there is a minimum number that is best to have at least. That will be discussed in another post.
It is also important to note that keywords with no traffic is useless. I have encountered businesses that proudly proclaim being on 1st Page for keywords that has no traffic at all. That is like opening a store in the Himalayans, and boasting that no one comes to the store.
No traffic = no sales = no business.
On the other hand, keywords with good amount of traffic brings opportunities to convert visitors to customers. Even your ad campaigns can grow cumulatively when you rank with keywords.
KQI – Keyword Quality Index
When you use the Free Keywords Tool, you will see this metric under the column – KQI. With this metric, you can immediately understand the keyword quality that can be applied for any marketing campaign, be it PPC (Pay Per Click), SEO (Search Engine Optimization) or Content Marketing.
When you have a fast way to determine keyword quality, your keyword research becomes more efficient.
QSR – Quoted Search Results
This is the ULTIMATE metric to measure competition.
It is acquired by gathering information from search engines, and calculating the exact number of pages that are using the same EXACT keywords that you will compete with should you choose these keywords.
If the QSR number is under 400, you have an acceptable chance of getting ranked on search results. Ideally, it should be under 300.
There are millions of keywords being used. A tool like this that gives you this data is invaluable.
SEO Power
Ready to make your keyword research super efficient? This metric can help you do that!
It helps you decide whether or not a keyword is a good choice for you to use, especially when you want to do SEO and get your website ranked on first page of search results.
When you get rankings, you can get more traffic. When you get more traffic, you have the opportunity to convert visitors to subscribers and eventually to customers. It is that plain and simple!
This metric is based on the traffic, the nature of the keywords, competition and the keyword quality.
There are many more other tools and metrics that can be useful. Go check out the Free Keyword Tool now.
---
If you have ANY questions about this post, the Free Keywords Tool, ANY at all, please submit your questions as comments below. I will be happy to help you out.
Thank you for reading this.
Best wishes to All!