How to Make Money From Etsy?
Timotheus Update: This post was originally published on 15 April 2020 on my previous website – Passive Online Revenue. Due to rebranding and consolidation of the two sites, the post is now on this website and published on 23 December 2022.
Do you love to create your very own hand made products? Are you looking to start a business and make money from them? Especially selling them online? This article will teach you How to Make Money from Etsy?
Is Etsy a good choice to showcase your products? What are the pros and cons of selling on this eCommerce platform? And how to do it right?
You will learn all this, and more in this article.
---
Would you like to learn how to start and grow an affiliate marketing business? Join my I Love Passive Income community for more tips and useful business information. Simply fill in the details below, and you will receive an email with instructions on how to join this invaluable community.
---
Etsy is an eCommerce site where hand made items are sold by people who create them. The platform is also an online space for selling vintage items and craft supplies.
Hand made items can include a wide range of product categories such as jewelry, bags, clothing, home decor, furniture, toys, and art. For vintage items, the criterion is that they must be at least 20 years old.
In 2018, Etsy reported a total sale of US$3.93 billion
Remember those fairs where they sell hand made arts and crafts? Etsy is the same except it is online.
Each stall that used to be in those physical fairs are now on the Etsy sites as individual online stores. And each store is given a store front.
Sellers can create a shop on Etsy for free. And they can list their wares there. Etsy charges US$0.20 for each item on display in this online store.
Buyers visit Etsy, and shop around. They buy products displayed at the stores. The sellers then make a sale and money.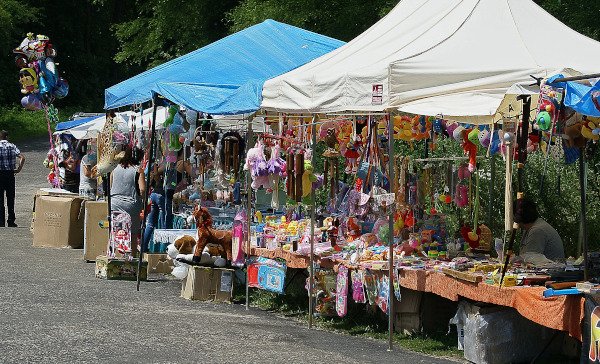 What Are the Advantages of Etsy?
1. Huge market
In 2018, Etsy has more than 35 million active buyers. This huge market of potential customers is projected to grow in 2019.
2. Easy to Set Up and Maintain Listings
3. Collaborative Community
4. Well Known and Trusted by Consumers
5. Useful Data and Analytics
Etsy offers data to help you understand more about your shop and business.
What Are the Disadvantages of Etsy?
1. Need A Lot of Marketing
2. High Competition – need to stand out
3. Need to Do Powerful and Effective SEO (Search Engine Optimization)
4. Sellers Complain Manufactured Products Sold on Etsy, No Longer Hand Made
5. Your Products Get Copied and Sold Cheaper
How to Make Money From Etsy?
As with any business, you must decide on a niche. This is the market you wish to offer your product or service.
Ideally, it should also be a topic you are passionate about. After all, you are going to create these products. For example, I am passionate about crystals. I could do an Etsy store selling crystal jewelry that I create by my own hands.
I have many students and mentees who are always stuck at choosing a niche. To make it easy for you, here is a blog post from me to teach you how to choose a profitable niche. Click on the image below to read the blog post and watch a video too.
Decide on a Product Line to Create
A niche can have a wide variety of products to sell. For example, in the arts and crafts niche, you could sell beaded products, jewelry, or even antiques.
If you already have an idea of a hand made product, then good for you. If not, and if you are coming on board Etsy without an idea of what to make and sell, then I suggest you watch the video above first.
Learn how to choose a niche. Then search on Etsy to see what products are being sold there within that niche. Just to get ideas and inspiration.
Try not to copy. It will be a tougher road for you because you will have to compete with successful sellers.
Now that you have decided on your niche and product, search on Etsy to see who are your competitors? A little competition is all right. It means that the product is in demand.
But too much competition may not be so good for you. As said in the list of disadvantages, when you have too much competition, it would be very hard to stand out from the crowd.
As such, your product many not get found on Etsy. This results in no sales. Many sellers on Etsy face this problem.
Now it comes back to your unique hand made product. The merchandise that started this quest of yours to make money from Etsy.
Create a high quality product. Then take really good and high quality photos of it. Make it unique to stand out. Also, think of unique and interesting name and description for your product.
When you are ready, you can go to Etsy and open an account with them. Next, set up your shop. Get ready your brand name and logo.
Passive Income Tip: Opening an Etsy account is Free! But watch out for the listing, transaction and payment processing fees.
You can use Etsy's payment system or PayPal. Either will incur a payment processing fee.
After you have created your Etsy store, you are ready to add a listing. This will feature your product that you are selling.
In step 4, it was mentioned to get ready high quality photos, name and description of your product. You can add them into your listing now.
When a shopper buys your product, complete the sale by fulfilling the order. This includes packaging and shipping the product to the customer.
One of the difficulties mentioned by many sellers is that their store and product can get lost in the ocean of shops and listings on Etsy. As such, you cannot rely on Etsy to promote for you.
To succeed, you will need to do a lot of advertising and promotion of your brand, eCommerce store and products on other sites. You will need to do marketing, especially digital marketing.
I have written many articles about digital marketing strategies to promote your business. Your Etsy store is now your online business. You can start to learn about digital marketing by clicking on the image below.
The Better Alternative – Affiliate Marketing
Why Affiliate Marketing is Better Than Etsy?
After you have read the above on how to make money from Etsy, I am sure you realized one thing. It is a lot of hard work. That is all fine if you enjoy it.
I prefer to work less, and still make more money. And if you are like me, you would like affiliate marketing.
What is Affiliate Marketing?
I found affiliate marketing requires less hard work. And as such, it is closer to truly being a form of passive income.
Not sure what it is all about? Here is my blog post with all the information about affiliate marketing. Click on the image below to learn more.
---
Would you like to learn how to start and grow an affiliate marketing business? Join my I Love Passive Income community for more tips and useful business information. Simply fill in the details below, and you will receive an email with instructions on how to join this invaluable community.
---
How to Make Money From Etsy?
Timotheus Final Thoughts
I find Etsy ideal for people who love creating their unique hand made products. It is a lot of hard work, and I know of many who enjoy that.
But it can also take a lot of time. And money. For example, the cost of material to create that hand made product.
If you are starting out, and do not have a huge budget or looking something conservative to start with, then affiliate marketing is the best choice.
You can join the Free Starter Package with just your email. No credit card needed for this Free Starter Package.
There is some free training as well as really powerful tools and features to help you do digital marketing for your online business.
My #1 Recommendation
Get your Free Starter account Now!
Join the Wealthy Affiliate as a Starter member for Free! And get access to free training as well as many free features and tools (including powerful keyword tool). Plus, you get to create a website hosted on the Wealthy Affiliate server for free.
You Get My Bonus!
When you join the above program, I will be your mentor. I will guide you and help you do affiliate marketing successfully, and make money.
If you have ANY questions, or anything to clarify, please drop a comment below. I will be happy to help you.
I wish everyone great wealth and success.
Timotheus
Your Online Business Coach