Introduction
Are you struggling to attract people to your business? Trying to find ways to get more traffic and start seeing success? Wanting to learn the art of marketing and finding that perfect prospect?
This all sounds familiar to many of you out there, and was exactly where I was just a little while ago
Here is my journey and a look inside Elite Marketing Pro.
Hi I am Dena from denabriley.com. I am a strategist, coach, and mentor that enjoys sharing ideas with others to help them in building their business online and finding the right path to success.
My good friend Timotheus wanted me to jump on and give you a little insight and an insider review about Elite Marketing Pro and the approach in attraction marketing, a training platform that is helping several struggling entrepreneurs learn the art of attraction marketing for their online business.
---
Would you like to learn how to start and grow an affiliate marketing business? Join my I Love Passive Income community for more tips and useful business information. Simply fill in the details below, and you will receive an email with instructions on how to join this invaluable community.
---
About Elite Marketing Pro
Elite Marketing Pro is a mentorship and coaching platform for home business owners, entrepreneurs and network marketers. Their goal with their extensive training platform, is to empower you to learn the skills associated with attraction marketing, so you have the knowledge and the understanding of how to market your business in a way that will unleash an unfair advantage over your competitors.
Just starting out in business and not sure which road you want to take yet? With their unique platform they walk you step-by-step by teaching you how to promote their own educational training products.
This gives you an opportunity to earn as you learn, and you will discover how to apply this comprehensive training to your own business by learning the fundamentals of attraction marketing, building a following that know, like and trust you, and then applying what you learn to your own personal brand.
Here is a sneak peak of what you will find inside Elite Marketing Pro.
Elite Marketing Pro – The Overview, Rankings, Pros and Cons
Name: Elite Marketing Pro
Owners: Tim Erway, Matt Crystal and Ferny Ceballos

Website URL: elitemarketingpro.com

Price: Free Boot Camp – Free => Attraction Marketing Formula – $27.00 => Elite Marketing Pro Insider => $297.00
Elite Marketing Pro Review – An insider look
What Are the Pros of Elite Marketing Pro?
Easy to navigate training platform
Learn how to establish a following that know, like and trust you
Multiple levels of teaching – As your business grows you have the chance to upgrade
Step-by-step instruction for getting your own online business up and running
Build out your own website and sales funnels with page creator pro and hosting for WordPress
Provides training wheels while you are building your business
Done for you sales funnels
1-on-1 Coaching to help you understand mindset and marketing skills you need for success
Top Notch Marketing Training for Online business
Opportunity to earn while you learn
What Are the Cons of Elite Marketing Pro?
The training targets and places more of an emphasis on the network marketing community instead of affiliate marketing and direct sales.
Multiple up sales – As you advance through the training there are some extremely pricy upsells. You are learning about marketing your own business and as you learn, you will find that up sales do make a difference in success, why would they not practice one of the strategies that they teach.
Here is a little bit of history about me and how I got started with Elite Marketing Pro…
My dream of owning my own business online started a couple years ago when we had a reorganization at work, and I landed in a dead-end job that I absolutely hated.
Thinking I only had a couple years left before I could take early retirement my plan was that I could stick it out for the duration.
That was until I found out that by taking out my retirement so early, I would end up losing two-thirds of my pension, there is no way I could live on that being 10+ years prior to getting social security benefits.
I was devasted by the news and knew I had to find a way to change my life.
Not really wanting to go out and find another job, I decided to build a business online, something where I could work from home and work toward accomplishing my goal for early retirement.
I jumped in and found myself working endless hours and it seemed like I was just spinning my wheels and going nowhere fast.
I built a great website It just seemed that I could not get any traffic built up to make a difference and find what I needed to find success.
Eighteen months into my online business and still no sales to speak of, I know building a business online does not happen overnight; however, I was frustrated and about ready to quit.
I was talking with a friend on Linked-In and he was telling me about this training that he was involved in that really increased his traffic and he was well on his way to success.
A bit concerned and thinking, not another shiny object. Yes, I had been burned before, and was skeptical of jumping into something that would take my money and not provide the path to success. You have been there, right?
I took the information from him and let him know I would check into the training; we have all heard that before. Well for me I needed a solution a way to get out of that job and a way to find success in my business.
So, I took that information and started my research and the first thing I wanted to find out is, what is attraction marketing and how would it work for me. Are you asking that same question? If so let's explore…
Is Attraction Marketing for You?
When trying to decide if something might work for your business what is the first question you ask?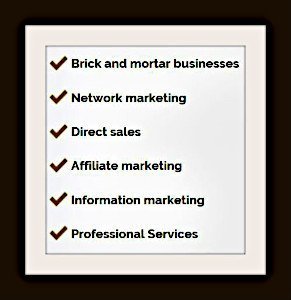 My answer to this, who is this product for?
My friend warned me that the training seemed to be for network marketing, using terms like, with this training learn to attract people to you with no more cold calling and harassing friends and family.
He did assure me the training was great for affiliate marketing, direct sales, information marketing and even the professional services industry. This is because is teaches the concept of attraction marketing.
What is Attraction Marketing? Here is what I discovered…
Attraction marketing is a natural strategy that acts like a magnet drawing people to you, getting your customers to know, like and trust you. No, this is not tricking your customers or misleading them. It is more about keeping it real.
Attraction marketing is accomplished by providing lots of value to your customer; in-turn, people are attracted to you and appreciate everything you have to offer. No, you don't have to be beautiful for this to work, they say just get out there and expose warts and all.
You will find with providing value to your customers, people like you for the real you, even if you are only a couple steps ahead of them, they will still look at you as an authority, because you have the ability to help them and provide them value. If you think about this is what we are always looking for when we search the web.
You see, gaining the know, like and trust factor, makes for loyal customers that come back time and time again. So, Yes! This concept of attraction marketing will help anyone trying to build any type of business online and is not for just the network marketer. Sounds like something you can do, right?
Can you see how this would have an advantage over normal marketing strategies? I know I can.
What Does Free Attraction Marketing Boot Camp Offer?
Wanting to find out more about this strategy and see if it would work for me and my business, I dove right into the free Attraction Marketing Boot Camp and didn't even have to enter a credit card.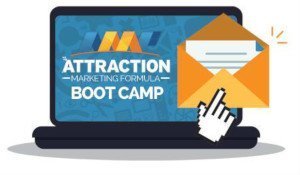 That was a plus I could explore the system and the only thing they ask for was my name and email.
It was set up on a drip campaign providing a free video every day for the next 10 days teaching the strategy of attraction marketing.
The training went over several different categories in how to build a customer base and how it can help you. Remember that my friend had warned me that this training is target the network marketer, but we found that attraction marketing can be for any online business.
If you are an affiliate marketer like me, we just simply read between the lines and understand when they are talking about building your team, as an affiliate marketer, we are replacing that with building a customer base.
Let's look at some of the topics they cover…
Finding the right customer
How to keep your customers engaged
Optimizing value to you customer
Building a relationship with the customer
During the Boot Camp and throughout the 10-day training, there is an offer for the Attraction Marketing Formula, for an extremely low investment of just $47.00 and has a 100% money back guarantee. Who wouldn't want the chance to get their hands on the formula for attraction marketing and building that perfect customer base?
What did I have to lose, right?
Attraction Marketing Formula – $27.00
Clicking the link, took me to a long sales letter, you know ones.
It basically talked about how it could help the network marketer build a team and duplicate the process. Another area they touched on was how to make money even when someone did not join your team. Curious? I was too.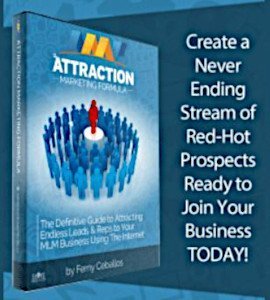 Considering most of the sales letter did not pertain to my passion of affiliate marketing or direct sales, like most people I just scrolled to the bottom to find the offer.
What I found is not only with this offer of the e-book, which was well worth the money, for acting fast, they are also including three bonuses and enroll you into the Ignition program. Now that is really leading with value, by this time I am really seeing how attraction marketing can work.
The bonuses consisted of…
A lifetime Affiliate Program – I found they offered great commissions of 20-70% depending on your status for an affiliate marketer, these commissions are an actual affiliate program and has nothing to do with network marketing. Elite Marketing Pro teach network marking but is in no way a network marketing company (MLM).
Ignition Coaching – 1 on 1 coaching from an expert coach to help you get started with the Attraction Marketing Formula and jump start your business.
Members Only Life-Time Facebook Mastermind Group – This is a great community of people just like you and me wanting to learn and implement attraction marketing in your business.
This was all just the beginning…
After opting into the Attraction Marketing Formula on the Thank-you page was an offer for a yearly membership to the Elite Marketing Pro Insider Membership and Training Platform. Again, they offered that same 30-day 100% money back guarantee at a very reasonable price of $297 and they even offered a payment plan. So Yep! I went for it after all, $300 off the regular discounted price, and we have seen that they deliver over and above on their promises and price point.
With the 100% money back guarantee again what did I have to lose and with everything to gain to have that chance to have training that might just start helping you turn a profit in an online business?
I was excited to have all this newfound training at my fingertips and after reading through the Attraction Marketing Formula downloadable eBook, I jumped right into the training platform, inside I found an easy to navigate dashboard and a roadmap leading through all the different modules of the training. I was now on my way to finding success!
Diving right into the individual modules, I found they start you out right away on how to build an audience that will begin to know, like and trust you. Through my research I found that this is an important factor in building any online business, without bringing in customers to your business you have nothing.
This is what I have struggled with all along and with following the training, I am now on my way to building that audience and securing those lifetime customers. This was just the beginning of everything they have to offer to really get your online business going. Everyone must start somewhere, right?
So, here is a brief sample of what I got for signing up for the Elite Marketing Pro Insider Membership.
Insider Membership – $297.00
As you can see Elite Marketing Pro offers both a well-rounded training platform along with many tools to help you along the way, you even get a 1-on-1 coach to help you stay on path.
One of the unique factors that really sold me is if you are new to building a business online, you could simply use their already proven, done for you sales funnels and make a great affiliate income by just sending leads. Talk about an advantage you send the leads and they take it from there to secure the sale for you.
Many times, with an affiliate program if you send leads and they buy, you get the commission, but you never have the chance to secure that lead as your own customer.
With Elite Marketing Pro your leads belong to you and are stored as your lifetime customers. It is like having training wheels while you are building your own business.
After building your own business and becoming more confident in your business, when you are ready you simply take the training wheels off and simply take over your list of all your own leads. As they say the money is in the list. This is definitely a plus for someone just getting started. I do see how this can create an unfair advantage to other business owners and get you setup on your own path to success.
How Does Using These Strategies Create an Unfair Advantage?
Elite Marketing Pro promotes that you will have an unfair advantage against your competitors by using attraction marketing in your business. Why? Using the strategies that they teach actually attracts people to you and then those people become loyal customers, removing them from the market of your competitors. Is that unfair? Not if you are the one using the strategy.
Here is a case study from one of Elite Marketing Pro's top earners, Kate McShea and how she used what she learned from Elite Marketing Pro to take her business to a 6-figure per month income and produce a 7-figure year.
Kate started out as a 2nd grade schoolteacher making $36000/year and wanting to just replace that income with a home business. Kate was then able to leverage her business through Elite Marketing Pro and has gone on to become one of the top earners in the Elite Marketing Pro community. Kate went from trying to build her business, frustrated and ready to quit, to finding success. I want this for my business, and I am sure you do too.
What Are Some of The Members Saying?
These are people just like you and me that have joined the Elite Marketing Pro community. Check out what the members inside of Elite Marketing Pro have to say…
My Personal Thoughts on Elite Marketing Pro
I feel Elite Marketing Pro is truly committed to helping their students to succeed in any business and with their education and support of their community helping home business owners, entrepreneurs, and network marketers find their path to help you succeed through providing high value through education and support for their students.
In just the short time I have been with them I have learned so much and want to help give back by offering what I know to my own followers and community, I have found this to be very rewarding.
Even though I have not made it big yet, of course I have only been in it for a short while, I do recommend checking out Elite Marketing Pro and the Attraction Marketing Boot Camp and get your hands of the Attraction Marketing Formula, go through the training and see for yourself if it is a good fit for you and your online business needs.
As far as how it has helped me personally, I have seen growth in both me and my business and it has given me that unfair advantage to get out of being stuck and gaining on my journey to success. I plan to see you at the top.
Get Started on your new journey today!
---
Would you like to learn how to start and grow an affiliate marketing business? Join my I Love Passive Income community for more tips and useful business information. Simply fill in the details below, and you will receive an email with instructions on how to join this invaluable community.
---
Elite Marketing Pro Review – An insider look
Dena's Final Word
Any Questions or Comments? I am here to help you on your journey to a successful path in creating an online business. Please post and questions or comments below, I am always happy to hear from you.
Strategist, Coach, and Mentor